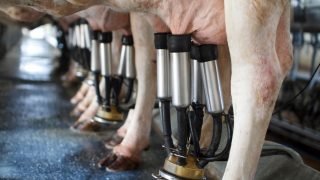 Act Now to Fight a Dangerous Bill Pushed by Dairy Industry
This action is closed.
We need your help to defeat a dangerous new bill in the U.S. Senate. The "DAIRY PRIDE" Act is a blatant attempt by the dairy industry to stifle the rise of plant-based products that many consumers choose as healthier and more humane alternatives by prohibiting such products from using "milk" or "cheese" in their names. The dairy industry is losing market share because consumers are gravitating toward cruelty-free products, like soymilk and cashew cheese, which are great sources of protein but contain no cholesterol or animal products.
The dairy industry claims this bill is designed to end "confusion" among consumers, but the idea that consumers would believe almond milk comes from a cow is absurd. The full name of the bill reveals its true motive: "Defending Against Imitations and Replacements of Yogurt, milk, and cheese to Promote Regular Intake of Dairy Everyday Act."
The bill would forbid makers of dairy alternatives from using "milk" or "cheese" in their name, even when that is what consumers expect for such products and when changing the name would only cause more confusion, not less.
Take action today to defeat this dangerous bill.
The Animal Legal Defense Fund fully supports truth in labeling, but the DAIRY PRIDE Act is designed to discourage people from purchasing healthy and humane alternatives to dairy milk products and to ensure the continuation of cruel factory farming despite consumers' growing interest in products that don't require animal cruelty.
The bill is currently in the Senate Committee on Health, Education, Labor, and Pensions. We've made it easy for you to contact the senators in this committee and urge them not to support this bill.
Legislators are using public resources to do the bidding of an animal-abusing industry that is terrified of the superior plant-based competition. We can't let the dairy industry get away with this. Speak up to tell Congress to stop stifling competition from humane dairy alternatives.
Related
In a momentous and long overdue shift in policy, partly in response to the Animal Legal Defense Fund's advocacy, the California Air Resources Board (ARB) has formally committed to regulating the dairy industry's greenhouse gas emissions.

The Animal Legal Defense Fund, in conjunction with other local and national groups, challenged the state of Oregon's approval of a water-pollution permit for Lost Valley Farm, a mega dairy.

In a decision denounced by animal advocates, a top Spanish court has reversed Catalonia's bullfighting ban, ruling it unconstitutional.