Endangered Species Act: How It's Helping Captive Animals 2019
Presented by Danny Waltz on February 22, 2019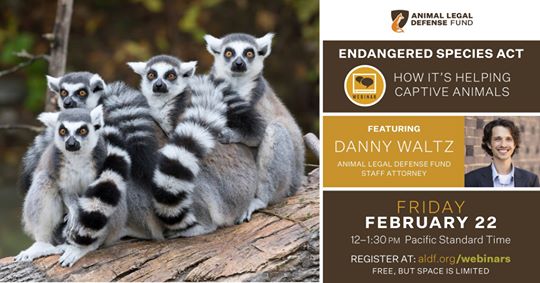 In 2016, the Animal Legal Defense Fund became the first to successfully use the Endangered Species Act on behalf of captive animals held at Cricket Hollow Zoo in Iowa.
Join us for a special look into this case and the success stories that have followed. Staff Attorney, Danny Waltz, will present with a Q&A to follow.
Related
Today, a coalition of animal protection and conservation groups sent a letter to the Humboldt County Board of Supervisors and Humboldt County Agriculture Commissioner, urging them to terminate their contract with the USDA.

Please help make AB 1788 law with a simple phone call to your State Assemblymember – ask him or her to vote "yes" on AB 1788 and protect wild animals like bobcats, bald eagles, and the endangered Pacific fisher.

Award-winning music icon Tanya Tucker is joining forces with the Animal Legal Defense Fund to urge families to avoid roadside zoos. After a recent visit to Special Memories Zoo, Tucker was so disturbed by the conditions, she felt compelled to stand up.